We are moving
If you want to post or drop off your equipment, please use the details below:
Thomas Camera Services Ltd
The Warehouse
Draper Street
Southborough,
Tunbridge Wells,
Kent, TN4 0PG
Telephone:
01892 515446 / 515335
Opening Hours:
8:00am - 5:00pm Monday to Thursday
8:00am - 4:30pm Friday
9:00am - 12:00pm Saturday
"Our technicians are trained to a very high standard by Canon and other Japanese and European Manufacturers.
With specialist expertise, knowledge and over 50 years of combined experience, we pride ourselves on working for a large number of individual photographic retail stores and Insurance companies throughout the UK.
Thomas Camera Services Limited was established in 1987 with the aim to provide a high quality repair service for photographic equipment.
The company has enjoyed continues success over the past 27 years even though difficult economic times due to the commitment and devotion of its technicians and support team.
We work efficiently and tailor each repair to the individual to ensure the fastest turn around and convenience for every customer. We offer a free estimating service on all camera repairs for more information call us on 01892 515446 / 515335 or email us for your free repair estimate.
Please also take a moment to look at our new and re-furbished photographic equipment in our online shop.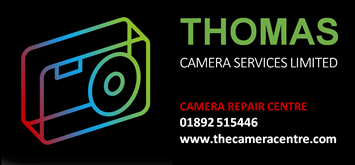 We can help you with all your needs; From Canon Warranty Repairs to Insurance work and giving you an Estimate for a Repair, Clean or Service of your Camera. Please get in touch. We're here to help!
Book in your Domestic & General Repair. If you have a D&G Referral Number/Job Number, enter your details HERE and we will send you out some pre-paid Postage Labels to get your equipment sent into us.
__________________
Click HERE for canon Repair information and why its better to get your camera repaired with us!
__________________